Automatic gearbox overhaul

What we do
Over the years, Rolls-Royce and Bentley have used various automatic gearboxes. BRABO has the expertise to deal with all common problems. We are specialized and equipped to overhaul the Hydramatic gearbox entirely in-house. We receive requests from locally and abroad for gearbox overhaul.
Hydramatic Gearbox (1952-1967)
Although this is a solid piece of machinery, there will eventually be irreparable defects. Symptoms of a faulty automatic transmission might be switching gears too late, problems between switching gears and no drive in reverse.
Overhaul of the Hydramatic gearbox at BRABO could include:
Disassembly and inspection (incl. control valves)
Cleaning parts thoroughly
Replace or repair worn parts (incl. new bearings, friction plates, spring packs, seals and gaskets)
Realining brake pads
Replacement of bronze slide bushings
Spraying the housing
Full installation and realignment.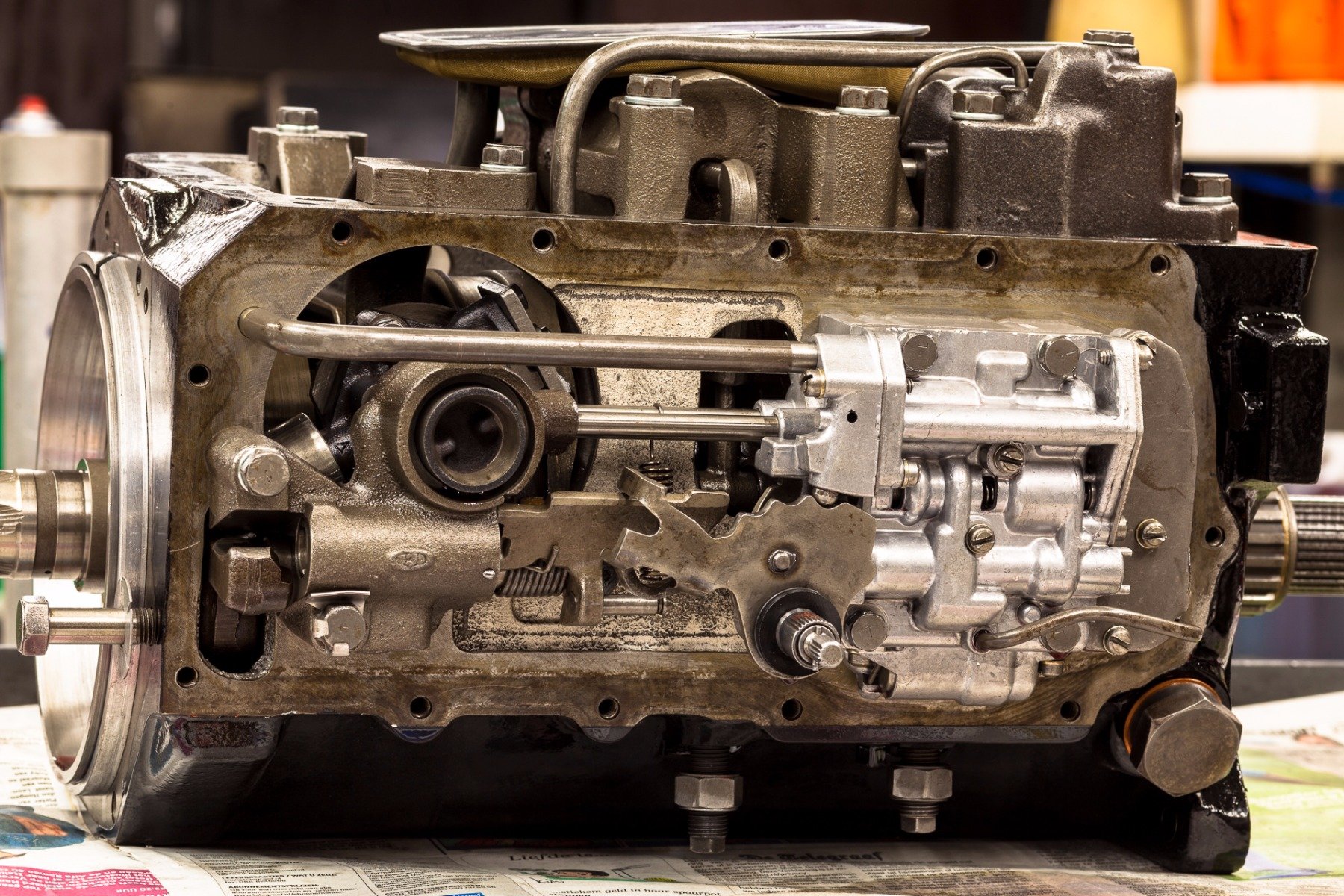 Repairs
A pressure gauge already gives us a reasonable picture of the condition of the gearbox. Although it is often assumed that it must be overhauled, this is not always necessary. After years of use, the brake pads are subject to wear. At a certain moment, they will no longer engage properly and re-adjustment can offer a solution, provided they are not too worn out.
The padded plates in both drums also wear out over the years. This can contribute to changing the switching moment. If the gearbox switches too quickly or too late, the switching moment can often be adjusted and can make a world of difference.
If an adjustment does not offer a solution, an overhaul will be necessary. When opening the gearbox, it is determined whether there is normal wear or a defect. The friction plates and brake belts can be worn out and the oil pan can be full of sediment. Sometimes a strong burnt odour is present because rubber seals harden in the hot oil and break easily. Sealing rings often no longer seal properly and springs can lose their required strength.
When dismantling, we carefully inspect all parts. If it concerns normal wear and tear, it is sometimes sufficient to thoroughly clean everything and replace the worn parts. It is not uncommon for parts to wear on each other, which means that in addition to the worn parts, we will repair or replace the defective components.
With our unique stock of used, refurbished and new parts, every problem can usually be solved. Depending on budget and availability, we will use new or good-condition used parts in accordance to your preference.
Bring the entire car to us or send the specific parts to our workshop. You will receive the reconditioned gearbox with an installation manual.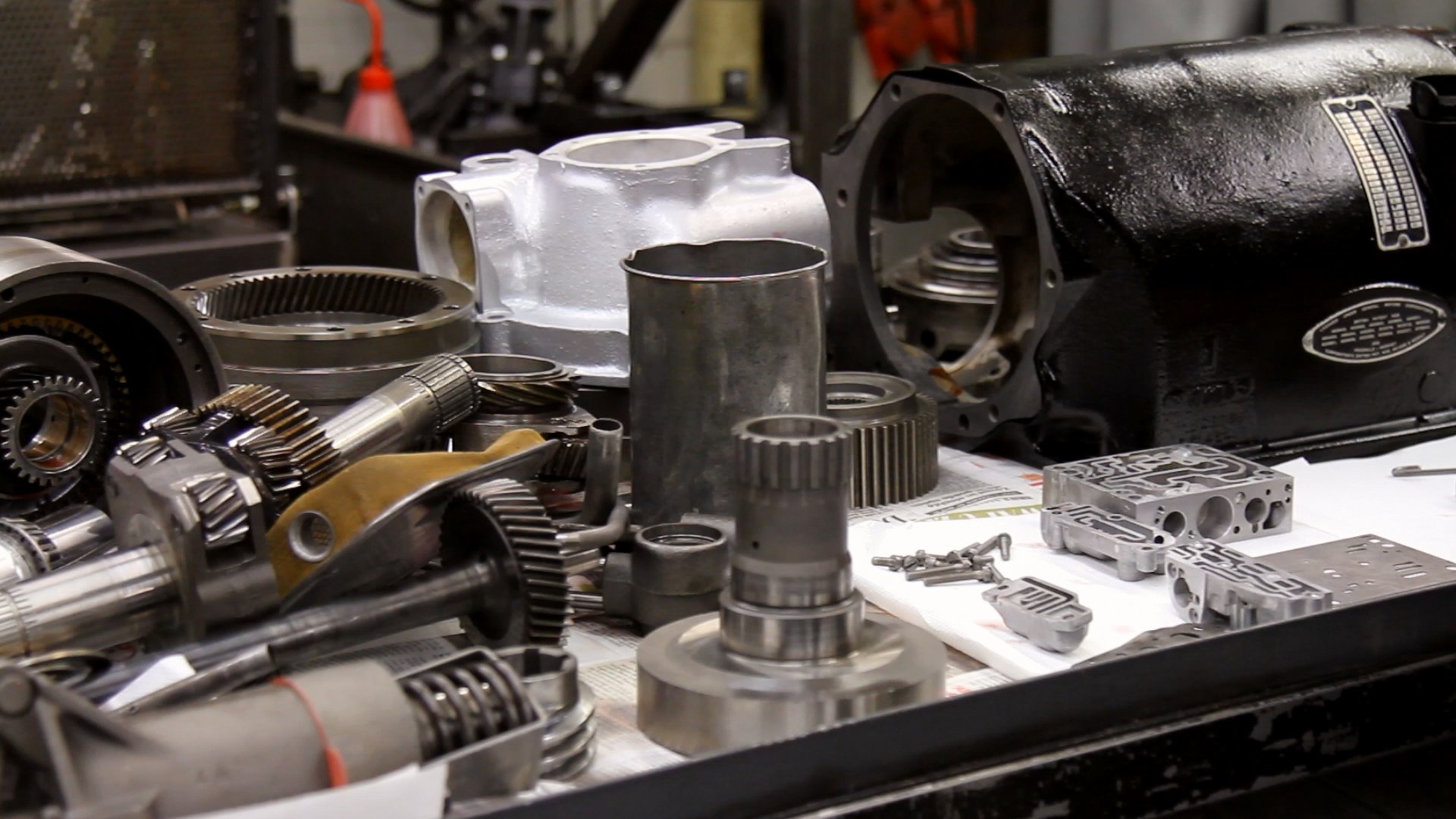 Rather the entire car
We strongly advise you bring the entire car or it is also possible we can arrange collection of your vehicle. With an overhaul, we reinstall the gearbox with a standard adjustment. It is also necessary to realign the body because the gas mechanism will also need adjusting. We make several intensive test drives and finely tune it. This way you can fully enjoy your newly-refurbished Hydramatic gearbox.
GM400 Gearbox (1967-1991)
For this type of gearbox applies 'plug and play'. These components are delivered overhauled with a reconditioned torque converter and new vacuum unit.
4L80E Gearbox (1991-2006)
This type of gearbox is electronically controlled. It can switch poorly due to control errors. First a read out is required. If that does not help, we will conduct further inspection.