Rolls-Royce Silver Wraith, 1950, RHD. Finished in two-tone Black over Burgundy with a Beige leather interior with Brown piping. Beautiful James Young body with wood and glass division, nice lambswool carpet for the rearpassengers.
After the second world war, in which Rolls-Royce produced aero- and tank engines in Crewe, the production of cars moved from Derby to Crewe. In this new era cars evolved from their pre-war "ancestors" since the whole of Europe was suffering from the effects of the war and didn't have much use for a luxury motorcar, Rolls-Royce decided to no longer produce cars in strictly separate series. Instead they would create as many parts of the engine, chassis and gearbox that would be identical for the different makes, and therefore easily interchangeable. This cheaper/smarter production proces made it possible for Rolls-Royce to give the luxury car market a new boost.

The Silver Wraith, launched in 1946, was an evolution of the pre-war Wraith and was offered in the traditional chassis form ready for the fitting of Bespoke coachwork. The 4,257cc overhead-inlet, side-exhaust engine developed before the war was used, as well as a modified coil and wishbone independent front suspension. Hydraulic brakes were used for the first time on a Rolls-Royce.

Considered by many to be the most technologically advanced Rolls Royce model in history, the Silver Wraith was an exceptional graceful and elegant automobile. The first post-war Rolls-Royce model, the Silver Wraith rode on a 127-inch wheelbase that was based heavily on the pre-war Wraith with coil sprung independent front suspension and semi-elliptic rear with a live axle. Also based on the Wraith, the engine featured a cylinder head with overhead inlet valves and side exhaust valves and an initial capacity of 4,257 cc and 135 horsepower.

At its release the Silver Wraith was described like this: 'In common with all Rolls-Royce cars, the Silver Wraith has an indefinable something about it, a delicacy of behaviour, which escapes definition in written words. it is a car for the connoisseur in cars'.
The Silver Wraith was constantly refined during its production. The engine was replaced with the 'big bore' 4,566cc in 1951 and automatic transmission was offered as an option in 1952.
The Silver Wraith was the final Rolls-Royce model that would be delivered in 'chassis only' form with the intent to be bodied by independent coachbuilders. The number of specialist coachbuilders was quickly declining over the years. Many of the Silver Wraith bodies selected used 'formal limousine designs'. In total 1883 Silver Wraiths have been produced during the production years 1946-1958.
This particular Silver Wraith has been produced in 1949, to be completed and delivered in 1950 with a James Young 4-door Sports Saloon Body (colour Black) with division. First delivery was to Dr. and Mrs. Fletcher from London. Known other owners: in 1974 the car is bought by mr. D. Owen Nichols Jr from Palm Desert California, in 2000 a Dutch car restoration company bought the car and restored it, body-off, to its current specification. Since then the car stayed in the Netherlands. Dutch owners: 2006 Mr Prinze, 2013 Mr. Jackson and since 2018 the current owner.
In 2019 BRABO performed a complete engine overhaul including ignition and carburettor. Also a brakesystem ovehaul and wipersystem repair have been performed. Before these jobs (in 2015) this car had an official taxation worth of € 110.000,- , one can imagine that this worth benefitted from these jobs.
A nicely filled map with history is available. This Rolls-Royce Silver Wraith is a treasure for your collection.
€ 79.950,-
Specifications
| | |
| --- | --- |
| model | |
| SerialNo | WFC80 |
| Mileage | 98834 miles |
| RHD/LHD | RHD |
| Coachbuilder | James Young |
| Interior & Exterior | |
| Exterior Colour | 2-tone Black over Burgundy |
| Interior Colour | Beige with Brown piping |
| | |
| --- | --- |
| extra | |
| Engine | L-6 4.257L |
| Matching numbers | Yes |
| Transmission | 4-speed manual |
| Division | Yes |
Available in our showroom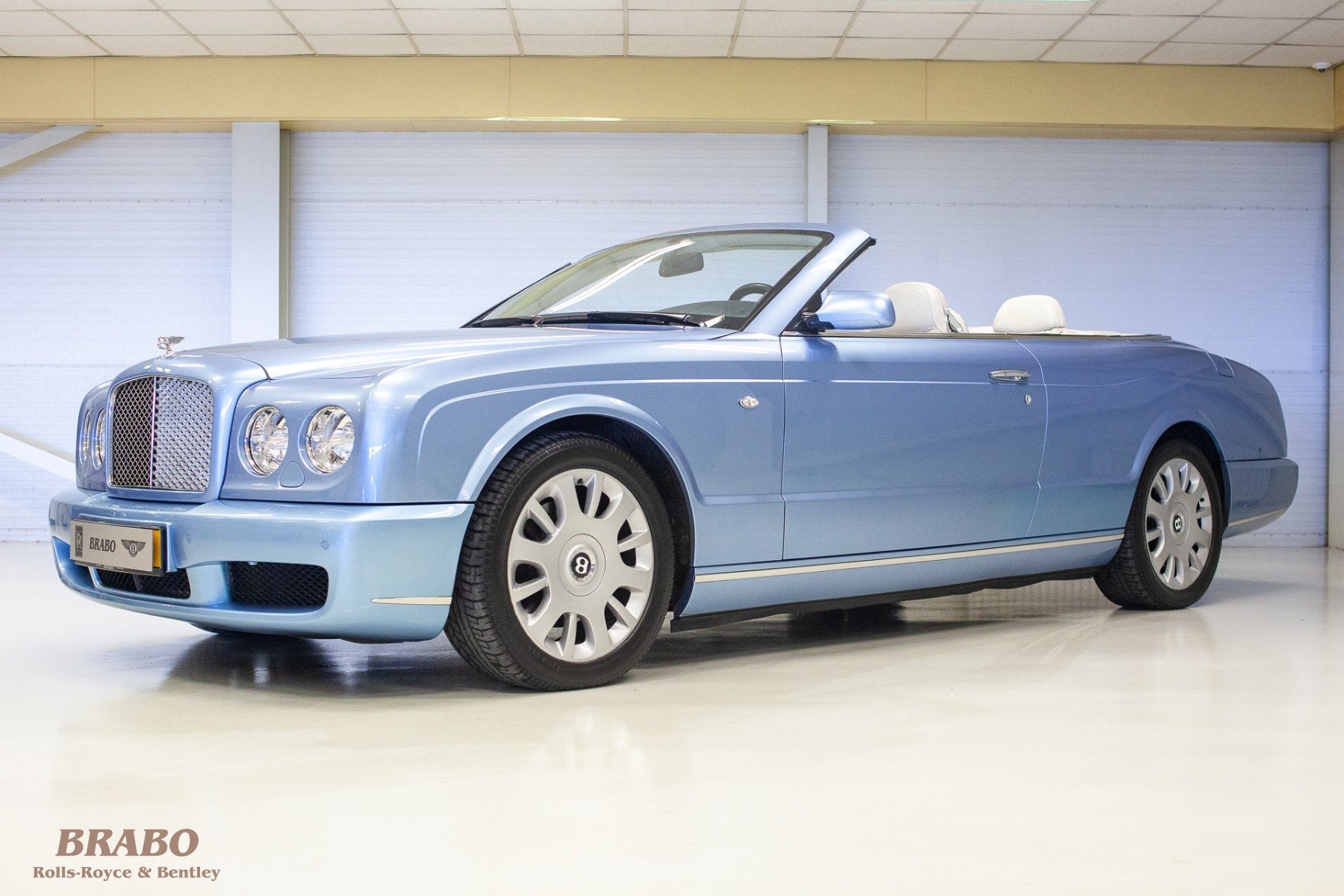 2007
Bentley Azure 2007 Silver Lake
Bentley Azure 2007, LHD. 41230 km's . Finished in Silverlake with a Magnolia leather interior, dark blue cloth convertible roof...